Outsourced actuarial services for large companies
Health care actuarial services
Major construction risk management
Outsourced actuarial services for large companies
Problem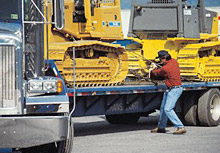 World Machinery Corp. (WMC) is a global heavy-equipment manufacturer with dozens of subsidiaries in the US and several foreign countries. Its revenues, in excess of $5 billion, have grown in recent years as the company has strengthened its acquisition program. WMC maintains a high-deductible program funded by a U.S.-domiciled captive insurance company. WMC's focus on risk management requires that each subsidiary account for its own property casualty insurance costs based on its own experience.
Solution
WMC outsourced all its quantitative actuarial needs to AJA Risk Management. AJA projects losses on an annual basis for the company as a whole for workers' compensation, automobile liability and general liability. Divisions with exceptional experience are treated independently along with newly acquired businesses. Loss allocations are provided for each subsidiary.
Each month AJA projects cash flow out on a rolling 12-month basis. In addition, AJA does a quarterly analysis to determine required loss reserves. A year-end analysis provides WMC with a property/casualty risk profile for the enterprise as a whole and for each subsidiary. Before WMC acquires a company, AJA reviews its experience and projects losses on both a pre- and post-acquisition basis. The company's cost of capital is then used to discount these projections.
Outcome
Working closely with WMC's risk managers, claims managers and risk analysts, AJA makes certain the data are complete and correct. This means AJA consultants don't take information for granted—if the data are inconsistent or simply don't make sense, they ask questions. With AJA's services, WMC is able to budget future loss costs by division and for the corporation as a whole. Result: WMC has the best cash management in its industry.
- go to top -
Health care actuarial services
Problem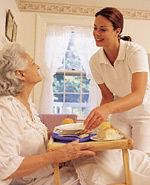 Wayne is a second-generation owner of the Silver Lawn and Easy Days Senior Care facilities in Sarasota, FL. Both facilities offer independent care, assisted living and nursing home services. Wayne's medical malpractice claims are far below the industry average. His insurance premiums, though rising in recent years, had remained affordable. But early in 2004, his insurance broker called to say the carrier who had been covering him was no longer writing insurance policies for nursing homes and related facilities. Worse still, the broker couldn't find another carrier to cover his business. Not only was Wayne facing the loss of his family enterprise, but the residents of his facilities were also in danger of losing a place to live. This would have been traumatic for the residents and their families.
Solution
AJA collaborates with brokers and captive managers to develop alternative risk management vehicles such as captives and Risk Retention Groups. AJA performs the quantitative risk valuation. The broker or captive manager makes recommendations for domicile selection and performs the feasibility study, executes regulatory filings and implements the final risk-management solution. AJA's actuarial consultants were able to help Wayne find partners to create a risk-purchasing group. Together with other small, well-run senior care facilities, Wayne was able to pool his risk and get additional protection by reinsuring the loss fund with a top insurance provider.
Outcome
Wayne can continue to run his facilities with the same careful management his residents have come to expect. Further, Wayne's daughter, who plans to take over the business in a few years, can feel confident that the homes are adequately insured to protect against losses. They will have the insurance protection required by their local lender and state and federal licensing agencies.
- go to top -
Major construction risk management
Problem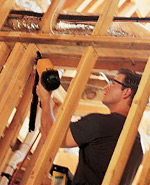 MNO Homes is a quality homebuilder in Atlanta, GA. They had plans for a 100-unit subdivision near Lake Lanier, but insurance was a problem. They were still recovering from difficulties with their first subdivision ten years earlier when they lost a major class-action suit for construction defects. As a result, MNO was unable to find an insurance carrier to cover their new project at an acceptable cost.
Solution
AJA Risk Management analyzed MNO's alternatives that included self-insurance and the creation of a domestic or offshore captive entity. MNO selected the most cost-effective solution for them—creating an offshore captive insurance company funded by their own reserves and pooled insurance fees from subcontractors. AJA then projected the anticipated losses and, subsequently, certified their loss reserves. Finally, MNO's broker selected an A rated carrier to serve as the fronting agency and issue the master policy.
Outcome
The insurance arrangement satisfied state building inspectors that MNO and all its subcontractors were adequately insured. The Lake Lanier project is expected to be highly profitable and MNO is looking toward the next venture. They plan to use the same insurance strategy and continue to use AJA to forecast losses and establish appropriate loss reserves.
- go to top -